SharePoint is the most versatile platform ever introduced by Microsoft. The platform includes several components which when used in precise combination can solve most complex challenges.
With Microsoft SharePoint integration, you can empower your people to collaborate across departments and teams to work together more effectively. Your organization can manage information, increase productivity, reduce compliance risks, and get the most out of your business data.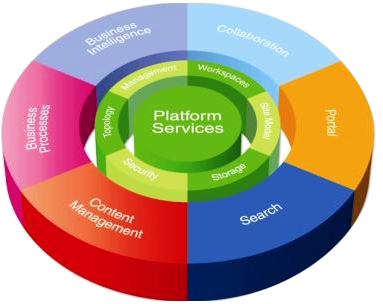 Collaboration
Allow teams to work together effectively, collaborate on and publish documents, maintain task lists, implement workflows, and share information.


Portals
Personalize the user experience and content of an enterprise Web site based on the userís profile.


Enterprise Search
Quickly and easily find people, expertise, and content in business applications.


Enterprise Content Management
Create and manage documents, records, and Web content.


Business Process and Forms
Create workflows and electronic forms to automate and streamline your business processes.


Business Intelligence
Allow information workers to easily access critical business information, analyze and view data and publish reports to make more informed decisions.
Companies of all sizes are moving to SharePoint to leverage its power, efficiency of information management, and overall functionality. SharePoint has revolutionized access and information sharing over the Internet, intranet, extranet and web applications onto a single integrated platform. It eliminates reliance on separate fragmented systems and fully integrates MS Office, resulting in seamless coordination of many business functions.