Accurate and timely payment posting is critical to the success of any healthcare provider's business. Any gap in posting can easily result in reduced income and poor patient satisfaction.
NDS can manage this entire posting process for you. Not only do we take away the headaches, we also deliver superior performance across multiple parameters such as accuracy, productivity and turnaround time.
NDS PaymentPro™ consists of the following modules:
Paper EOB Conversion To ERA
Loading of ERA and resolution of kick outs.
Loading of Bank Data (Check Deposit/EFT Data)
Document Management System
Reconciliation Process (Release for Posting)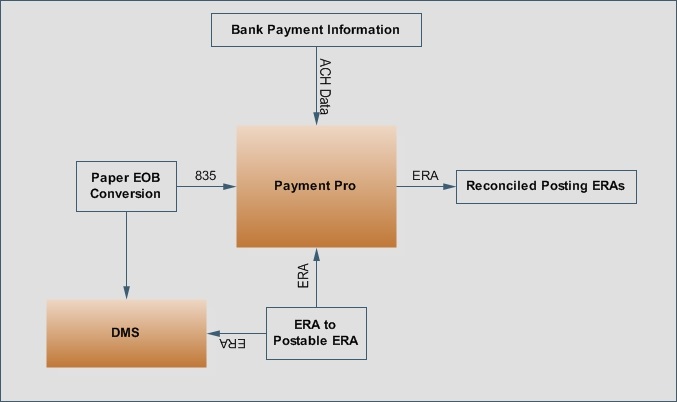 Figure - Process Flow Diagram
Paper EOB Conversion To ERA

This process converts all your paper remittance advices into ERAs.
NDS' EOB Capture Service removes that labor-intensive burden and delivers significant benefits in terms of reduced expense, faster payment collection, greater completeness and accuracy. Most important, we'll manage the entire transition for you so you don't have to worry about hardware, software, people, or disruption to your business.

What NDS will do?
We arrange to receive scans of EOBs from your lockbox (or directly from you) and we convert the EOB images into a postable electronic file - in most cases an 835 EDI format - which we transmit to the provider for posting.
We receive copies of claims files from you, and we use data from the claim to supplement any gaps in the EOB data generated by the payer.
NDS creates ERA files in EDI 835 5010 format
How does this service benefit you?
Fewer posting errors by eliminating manual capture of EOB information. We reduce the frequency of data entry errors seen when posting EOBs.
You need fewer data entry staff, reducing costs and freeing resources for critical functions such as follow-up and denial management.
Main Benefit: Most Denial management systems works with ERA, so they miss out the denial on Paper EOB. Once Paper EOB are converted to 835. The Denial are identified correctly in Paper EOB resulting in higher revenue

Loading of Electronic ERAs

In today's day, most of your payers send ERA's. A majority of these ERA's post automatically in your PMS. However, a certain percentage of your ERA result in kick outs due to incompatibility with your PMS. Resolving those kick-outs can be a tedious and time-consuming process. NDS can re-format your payer ERAs in such a way that they post in your PMS with zero kick-outs, resulting in impressive time/cost savings.

Bank Data (Payment File)

You receive your payment information from your bank. PaymentPro™ can effortlessly import your payment information of checks, EFT and credit cards.

Document Management System

Any paper EOBs (Explanations of Benefits) you receive can be converted to electronic '835' format using NDS' conversion services and merged with existing 835s into one centralized library database for your reference and/or for further processing by NDS. Any remittance can be retrieved from this central location at any time, regardless of its origin.
How does this service benefit you?

Document Management capability allows instant access to any remittance document in electronic format, irrespective of its original form.
Fast searches and multiple views (including graphic scans of original documents) eliminate wasted time, boost productivity, and enable faster revenue collection.
Readability by humans: Electronic remittance advices are typically readable only by computers. It creates additional versions in graphical (TIFF) form that can be read by your employees.

Reconciliation Process

Payers rarely send remittance advices (EOB and ERA) and payments (check and EFT) at the same time.

Associating payments with remits is crucial for the reconciling of patient's account.

PaymentPro™ takes the pain out of reconciling each payment with the corresponding remit.

Our technology makes process of associating each remit and its payment effortless.
Conclusion
The NDS PaymentPro™ System helps to capture lost revenue and increase the profitability of the practice.
Revenue Cycle
Management
NDS is the perfect partner for outsourced management of your Revenue Cycle Management (RCM) processes, including patient registration, eligibility verification, billing, A/R follow-up and more.
Read More
NDS Delivery
Methodology
To build effective solutions for our customers, we follow a time tested four-step procedure that delivers powerful tools customized to their specific requirements.

Read More
Client Success
NDS has a decade-long record of designing customized solutions to improve business processes, in various industry sectors, using advanced technologies and innovative techniques.

Read More